Sensit

UX
/
UI
TNO has developed an ultrathin smart sensor mat that can detect a person's breathing rate, heart rate and posture. This cutting-edge technology could help parents monitor the health and development of their children in a non-invasive and reliable way.
Challenge


TNO wanted to develop a realistic demo application of their technology to showcase at international tech fairs and events. I was approached to design an interactive app prototype which works with a smart sensor mat in a baby bed. The app had to be designed with potential users' needs in mind, and turn data into valuable insights for new parents and caregivers.



My role

As the sole UX and UI designer on the team, I was responsible for conducting user interviews, creating a persona and user journey map, developing wireframes, the visual style, mockups, a low and high fidelity prototype and a moderated usability study.



Research


Taking care of a baby is such a unique experience for each parent that it made it difficult to make any sweeping conclusions about the app. Instead of doing surveys to get general information about parents' needs, I opted for doing a series of 5 interviews with parents who recently had their first child. My main goal was to understand their challenges with child care and parenting. Based on the insights I gathered from the user research, I created a user persona to communicate to the team potential target users' needs and goals.




CLIENT

Baltan Laboratories & TNO

ROLE

UX / UI Design

TOOLS

Figma, Miro

DATE

2022

With this persona in mind, I created a future state journey map to visualise a best-case journey. This helped identify gaps and opportunities and decide which features we wanted to develop for the demo.


Lo-fi wireframes

As a next step, I created low fidelity wireframes, referencing the persona's needs, journey map and user flow. This a quick and efficient method for planning out the key screens required for the user to set up their mat setup, create a child profile and check live readings and log. Using the completed set of digital wireframes, I created a low-fidelity prototype to use for usability testing.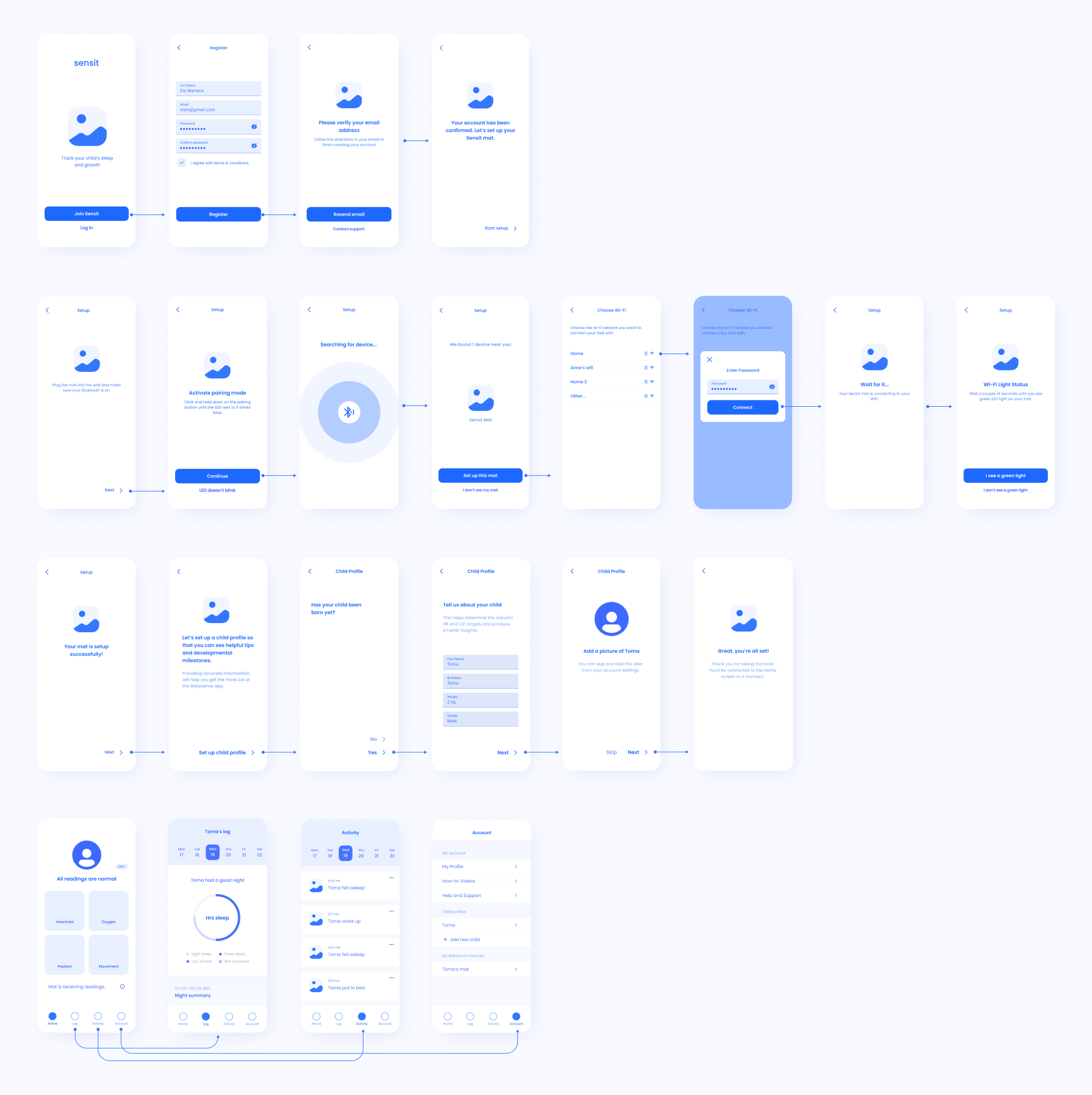 Usability study


I prepared for conducting usability testing by specifying three tasks I would be asking participants to complete. For the user recruitment, I contacted 5 people from my community and closer surrounding. The round of on-side moderated usability testing helped me identify the following key insights:



01
Visual Device Setup

Visuals help the user go through the mat setup process more intuitively.






02
Customisable readings

To avoid information overload which could be a source of anxiety, users can decide which live readings they want to see in the Home screen.






03
Detailed insights
A log feature provides an insight into the child's sleep throughout the day and a summary of last night's sleep, helping parents understand and anticipate their child's changing waking and sleep cycles.