Mobile App for a Baby Bed Sensor Mat
UX
/
UI
TNO has developed an ultrathin conformable smart sensor mat that can detect a person's breathing rate, heart rate and posture. This cutting-edge printed electronics technology could help parents worry less and love more, resting assured that their babies are safe while sleeping at home.
Challenge

The engineer team of TNO wanted to develop a demo application of their technology to showcase at international tech fairs and events. I was approached to design a prototype of an app which reads the data of a smart sensor mat in a baby bed. The app had to be designed with potential users' needs in mind, and
turn data into valuable and human insights
.
My role
As the sole UX and UI designer on the team, I was responsible for conducting user research, developing wireframes, a visual style, mockups, a low and high fidelity prototype and a moderated usability study.
User research

To start empathising with the user, I conducted
interviews
with caregivers and parents with young children and babies. My goal was to
understand users' challenges with parenting and babies' sleep
, the importance health data could play, and current experience with monitoring technology.
Number of participants: 5
Gender breakdown: 3 female / 2 male
Age: 30 - 38
All participants are young parents or caregivers
Based on the insights I gathered from the user research, I created a user persona to create a memorable impression of the users the app is being developed for.
CLIENT
Baltan Laboratories & TNO
ROLE
UX / UI Design
TOOLS
Figma, Miro
DATE
2022
Prototyping

As a next step, I created paper and digital wireframes to better understand how to address user pain points and improve the user experience. A main focus of my strategy was to prioritize a user-friendly health data display and features which can provide meaningful insights. Another aspect I focused on is a child profile feature, which can help produce smarter insights about the child's health.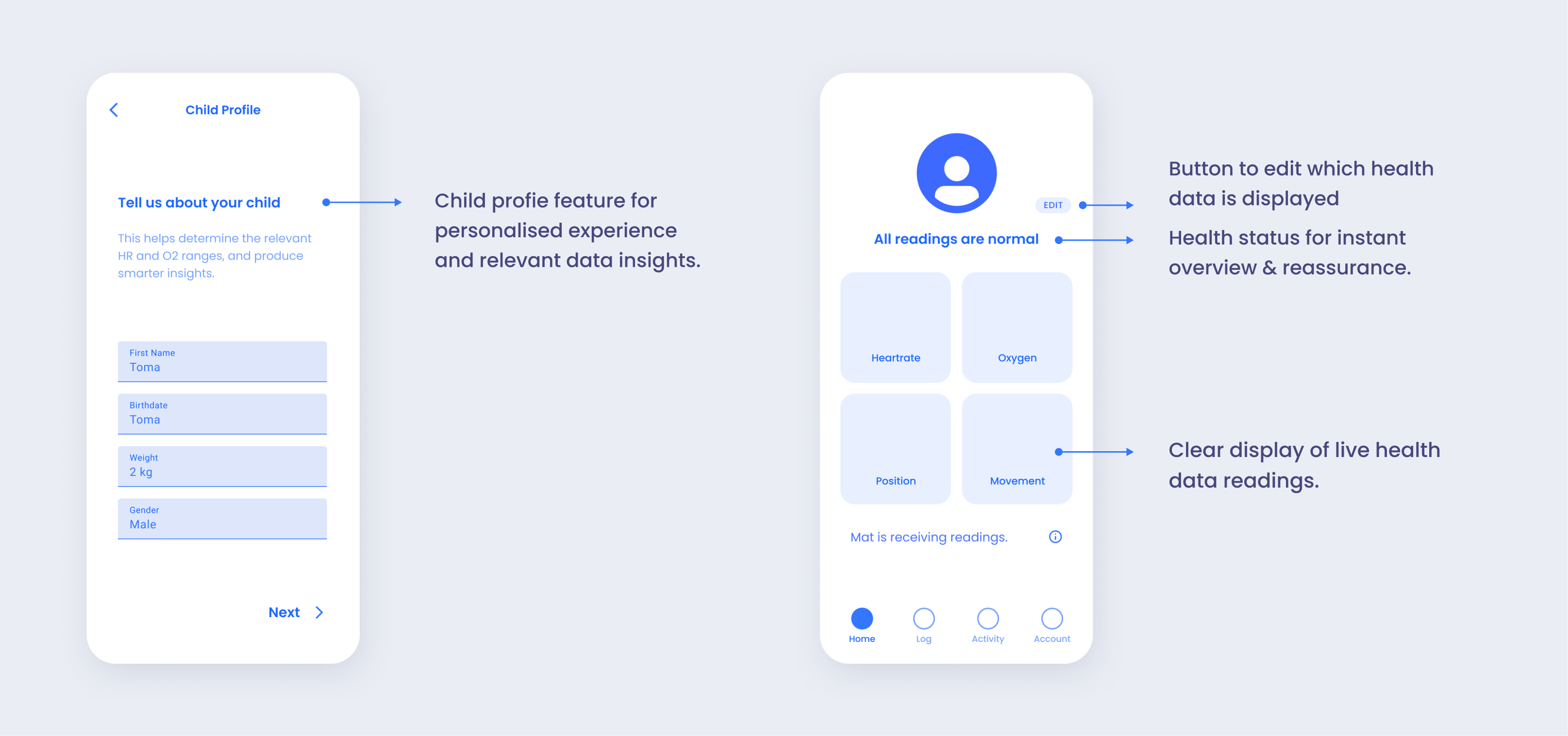 Using the completed set of digital wireframes, I created a low-fidelity prototype. The user flow I connected was registration with creating the child profile and getting information about the current health status, sleep and activity of the child.
Usability study

I prepared for conducting usability testing by specifying three tasks I would be asking participants to complete. For the user recruitment, I contacted people from my community and closer surrounding.
Tasks
Register and create a profile for your child
Find information about your child's last night sleep
Edit the health data you want to see
Edit the weight of your child in its profile
Summary
Number of Participants: 5
Age: 31 - 38
Gender Breakdown: 4 female / 1 male
All participants are parents or primare care givers
The usability testing helped me identify the following
key insights
:
Iteration

Using the insights from the usability testing, I iterated on the wireframes and added features to address points of frustration, confusion and hesitation. The major changes for improving usability are annotated below.